Take Your Meds-It's A New Book Review:--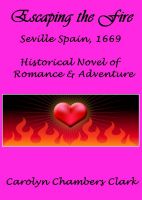 I really enjoyed this story. Through a fantastic and precise flow of words Carolyn had me running along with Isobel as she escaped through the many trials she had to endure just to fulfill her lust to heal the infirmed. Some of the escapades had my own heart ready to stop.Because of the fear from those not used to 'natural' healings, all hell fell on the girl's life.

I learned a lot of history(one of my fav subjects) and was never bored. A Escaping the Fire is a great read.
Check her out on FB to learn of her other books.